Hier das komplette Line-up für 2024.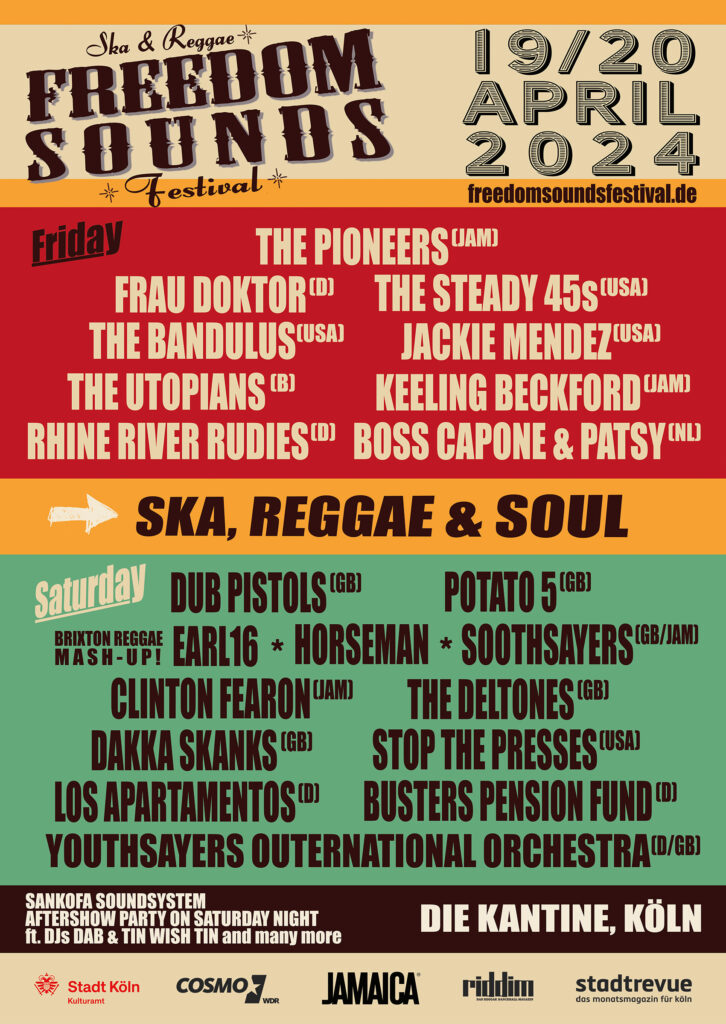 Tickets sind ab Montag, 20. 11., 10 Uhr bei allen üblichen Vorverkaufsstellen erhältlich oder online hier: Kölnticket
Good news: Wir konnten die Ticketpreise auf dem niedrigen Niveau vom Vorjahr halten.

Originalkarten - übrigens das perfekte Weihnachtsgeschenk - gibt es ab Mitte der Woche beim Underdog Recordstore in der Ritterstraße.
Ihr könnt Originalkarten auch per Mail direkt bei uns und ohne Vorverkaufsgebühren bestellen.
Tageskarten: 50 Eur
Weekendtickets: 80 Eur
Die Karten können an der Abendkasse abgeholt werden. Wenn ihr sie zugeschickt haben möchtet, dann kommen 5 Eur für versicherten Versand dazu (auf die gesamte Bestellung).
Christmas Special: Wenn du 3 (oder mehr) Tickets für das Festival oder den Christmas Ball über uns bestellst, kannst du das FREEDOM SOUNDS 3-CD-Box Set für sagenhafte 10,-Eur (statt 22,-inkl. Porto und Verpackung regulär) dazu legen lassen (für den versicherten Versand der gesamten Bestellung kommen 5,-Eur dazu).
Bestellungen bitte per Mail an karten@freedomsoundsfestival.de

Ermäßigungen:
Damit möglichst viele Menschen unabhängig vom Einkommen zu uns kommen können, bieten wir bei allen Veranstaltungen zwei Ermäßigungsstufen an: Studierende, Auszubildende, Menschen mit Behinderung* und Kölnpass-Inhabende erhalten eine Ermäßigung von (circa) 33%, Schülerinnen bis zum Ende des 18. Lebensjahres kommen zum halben Eintritt rein, Kinder bis 12 Jahren haben (in Begleitung eines Erziehungsberechtigten) freien Eintritt.**
* Für Menschen mit Behinderung gilt die Ermäßigung bei einem GdB ab 80 (ohne Merkzeichen) oder GdB ab 50 (mit Merkzeichen G, aG, H, Bl). Falls Du ein "B" im Ausweis hast, zahlst Du selbst den (ermäßigten) Eintrittspreis und kannst kostenfrei eine Begleitperson auf deine Karte mitnehmen.
** Bitte beachte, dass Du (für alle Ermäßigungen) beim Einlass einen entsprechenden Nachweis vorlegst. Solltest Du diesen vergessen, müssen unsere Kassenbesetzungen leider den entsprechenden Fehlbetrag auf das nicht ermäßigte Ticket von Dir nachfordern.
Complete line-up for Freedom Sounds Festival 2024.
Tickets are available from Monday 20 November, 10am at the usual ticket outlets or online here:
Good news: We are able to keep ticket prices at the same low level as last year!
Original tickets - the perfect Christmas present, by the way - will be available from the Underdog Recordstore in Ritterstrasse from the middle of the week.
You can also order original tickets directly from us by e-mail and without advance booking fees.
Day tickets: 50 Eur
Weekend tickets: 80 Eur
The tickets can be picked up at the box office. If you would like to have them sent to you, there is an additional Eur5 for insured shipping (on the entire order).
Christmas special:
Christmas Special: If you order 3 (or more) tickets for the festival or the Christmas Ball through us, you can get the FREEDOM SOUNDS 3-CD-Box Set for a fabulous 10,-Eur (instead of 22,-Eur including postage and packaging) (for the insured shipping of the entire order 5,-Eur will be added).
Link to the box set: https://www.freedomsoundsfestival.de/freedom-sounds-cd-box-set/

Discounts
To make sure everybody can access the festival regardless of their income, we offer two discount levels for all events: Students, trainees, people with disabilities* and Kölnpass holders receive a discount of (approximately) 33%, pupils up to the age of 18 get half price admission, children up to the age of 12 (accompanied by a parent or guardian) get free admission**.
* For people with disabilities, the discount applies for a GdB from 80 (without sign) or GdB from 50 (with sign G, aG, H, Bl). If you have a "B" in your ID, you pay the (reduced) admission price yourself and can take a companion with you on your ticket free of charge.
** Please note that you must present appropriate proof (for all discounts) on admission. If you forget to bring it along, our box office staff will unfortunately have to charge you the difference to the full price.
The post Line-up für Freedom Sounds Festival 2024 appeared first on Freedom Sounds Festival.